Design a Callcard Winner 1997 Interview (Triona White Hamilton)
Submitted by webmaster on Thu, 18/04/2013 - 10:34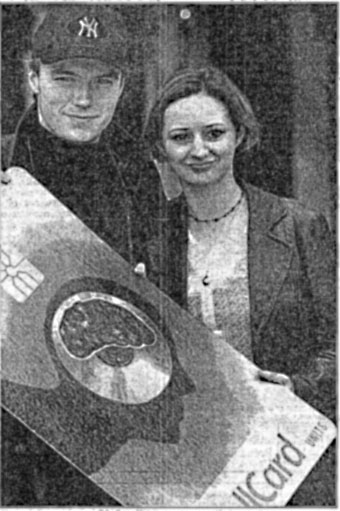 Photo taken at the Hugh Lane Gallery in Dublin, featuring Ronan Keating and Triona White (© Kenneth O'Halloran)
Many thanks for taking the time to talk to us. Tell us a bit about yourself?
I live in Belfast with my husband and we're expecting our first baby in July this year. I currently work as a consultant curator for various museums and organisations who deliver exhibitions. I've been working for museums, libraries and archives for about 7 years now and also like to create prints, textile pieces, and photo montages in my spare time. 
I can tell you were surprised to hear from ourselves on what must have been an exciting time in your past…Tell us a bit about the experience? 
Our whole class designed ideas for the Design a Callcard competition. I think I was working on a collage about Irish traditional music initially but the night before I handed in my design I got a flash of inspiration to design something about the Age of Information instead. Using the silhouette of a head I pasted down an old cd and drew a picture of a brain on top of it. The image of the cd and the brain seemed to work well together as a concept and also visually. I used blue colours in the background and the silhouette of the head was coloured black with white dots to represent the stars/ universe, this background represented the sky and universe and the limitless possibilities for the exchange of information out there.
I bet you were you a bit of a celebrity in your school/college for a long time after that?
I remember being really excited when I heard I was the overall winner from over 30,000 entries. My photo was in loads of newspapers and I had to do radio interviews. There was a big buzz around the school about it. In fact there is still a framed picture of me and the callcard in the corridors of my old school back in Buncrana.
What prizes did you get?
I remember getting a mountain bike, computer for our art class and money to bring my art class on a trip. We went to see an Andy Warhol exhibition in IMMA that year from the prize money. Ronan Keating from Boyzone was at the ceremony in the Hugh Lane to present me with my prizes. Even though I wasn't a fan of Boyzone I was completely star struck, he even sang 'Words' to me in front of everybody, which was amazing but also really embarrassing. I'm not one who enjoys being centre of attention. He was really friendly and I think  at the time his mother had just died just days before so it was good of him to come. Ray Darcy was also there and also very friendly.
Did you get any Callcards as prizes too?
I got a few callcards, not many left but I also got a giant sized card cut out of the callcard, which I think is still tucked in the back of my wardrobe somewhere.
In the past (prior or post winning), would you have collected Callcards?
I have a couple of Pauline Bewick callcards but that's all, I never really collected them. 
Besides your own, would you have a favorite Callcard illustration?
The Pauline Bewick ones were nice. Ronan Keating also signed a Boyzone callcard for me but unfortunately the ink he signed with has since rubbed off. 
Anything else you'd like to tell our blog readers?
Winning the Design a Callcard competition was a  great time for me, I have fond memories of that time, it helped boast my confidence in my art abilities and I'm sure helped me gain a place in further education at Art College. National competitions like these do a lot to encourage budding young art enthusiasts. 
Thanks so much Triona for taking the time out to talk to us. 
See Triona's winning entry
here