Design a Callcard Winner 1996 Interview (Elaine Cowley)
Submitted by webmaster on Mon, 25/02/2013 - 21:57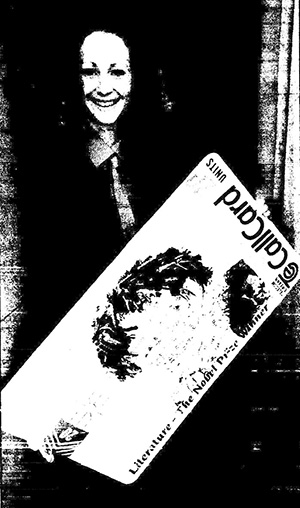 ( Photo © Irish Times)
This week we've been very lucky to catch up with the very talented Elaine Cowley. We talk to her about her experience in winning the "Design a Callcard Competition" in 1996. Here's what Elaine had to say:
Hi Elaine! Thanks for taking the time to talk to us. Firstly, tell us a bit about yourself and what you've been up to since?
Certainly! Well I'm living in Dublin and I'm married with two beautiful children. I'm also working in Dublin. After I won the Design a Callcard competition, I sat my Leaving Certificate exams and I went to National College of Art & Design (NCAD) to study Art & Design Education. After that,  I qualified as an art teacher and I've worked in a number of Secondary Schools in both County Meath and Dublin. In 2004 I went to work in a training centre in Lucan, Co.Dublin for both early school leavers and young adults with Intellectual Disabilities where I am still working today.  I decided to do a Masters a couple of years ago in Education & Training Management in DCU and also have a Masters level Friendship, Relationship & Sexuality Education qualification which I use in a specialised setting within work for young adults with Intellectual Disabilities.  I majored in painting when I was in NCAD and sell my work at some craft fairs (I used to exhibit on the Merrion Railings every Sunday in Dublin City Centre) and also do private commissions.  I am also a Flautist and studied for over a decade in The Royal Irish Academy of Music, Dublin. I've a keen love for baking (passed onto me from my Mum) and so I've passed those skills onto my two little chefs at the weekends... so as you can see, life is hectic!
It certainly is Elaine. You've accomplished a lot int that time. Next questions....tell us a bit about the experience of winning the competition?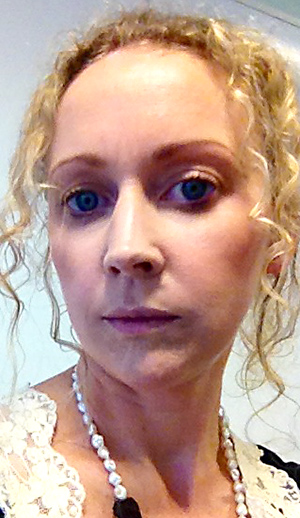 It was a great time in my life and it couldn't have come at a better time when I was battling with many others students to get into art college. I have great vivid memories of being on Th
e Den TV Show with Ray Darcy & Dustin. I also featured on Echo Island with Carrie Crawley. There were radio interviews and newspaper clippings popping up here and there, which was really cool! The most special memory of all was to see the actual Callcard in real life. I had a number of them in my possession at the time but I think I only have one left, which I will keep to show my own kids when they are older...mind you,with the way technology is progressing, they probably won't have a clue what its function was!!! As it is, my two year old is an expert on my iphone more than i am!
I was also contacted a year later to officially launch the next competition.  They were good memories.  I was photographed with Ray Darcy in St.Stephens Green and then the staff in Eircom took me out to lunch in a funky little restaurant...great memories.
It sounds like you had a ball! I bet you were a bit of a celebrity in the area for a long time after that?
Yes, It was a great time. The photo of myself and the giant sized Callcard (which I still have in my attic) was featured outside the art room and the Callcard itself was featured on the front cover of the school annual. When I graduated, I was awarded the artist of the year .
What prizes did you get?
I got a mountain bike and safety helmet, a really cool computer for the art room (which I would have have loved for myself!!) and a trip for the whole art class. We all went away for the weekend to Co. Limerick. That was a bit of a mad one! For the award ceremony, my family were invited to attend with me and I got to sit beside former minister Alan Dukes during the meal.
Did you get Callcards as prizes too?
I think so but I gave most of them away to friends. I have a giant one as well!
I'm sure you'll agree Elaine that your Callcard is unique, in that it's the rarest of the Design a Callcard cards produced (5,000)?
For sure, from a collectors point of view it makes it really special.
In the past, would you have collected Callcards yourself?
Yes, I would have collected some of the more visually impacting ones, as I used to keep design journals of every description from an artist's perspective. The more striking the better to help generate new design ideas. I used to use Callcards a lot back in the day for more functional reasons, such as keeping in touch with friends when I spent many summers in Co.Clare!
Besides your own, would you have a favourite Callcard illustration?
I admire the Pauline Bewick collection.
Thanks Elaine for taking the time to talk with us. On behalf of callcards.ie, we wish you and your family all the best now and into the future!
It's been fun catching up, thanks!