Design a Callcard 1993 Callcard (1058)
Limited Sleeve/Wallet Produced:
Card Information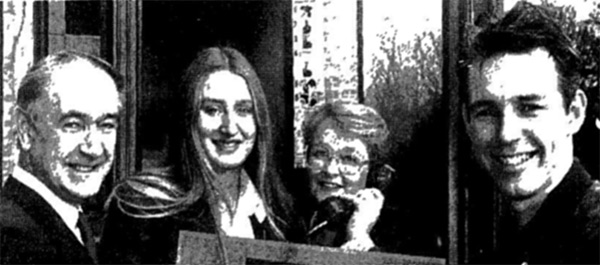 Pictured L-R: Fergus MCGovern (Chief Executive Telecom Eireann, winner Ashling Aylawrd, Minister Niamh Breathnach & Ray Darcy.
Image © Kilkenny People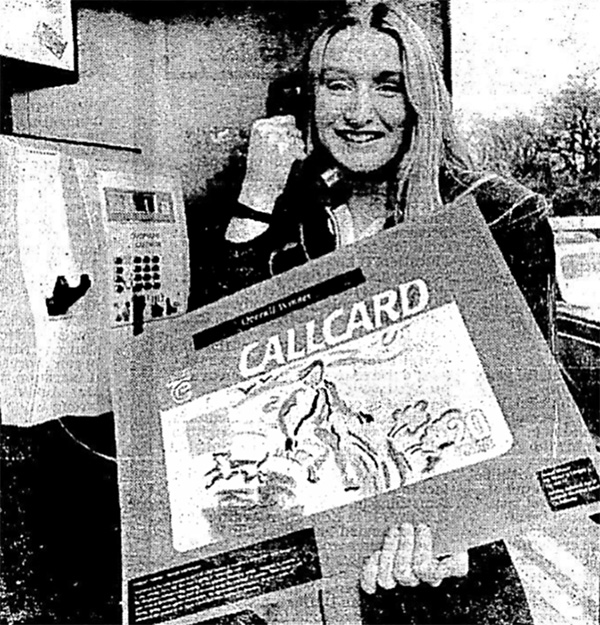 The first of the yearly "Design a Callcard" Schools Competition was hugely successful throughout Schools in Ireland during the Callcard Era. The event was well promoted with Telecom Eireann/Eircom sending out promotional packs to schools. In it's first year, there were 21,500 entries. 
The 1993 Design a Callcard winner was 5th year student Ashling Aylward, Age 17, from Ballyhale Vocational School, Co. Kilkenny.On the 31st of January 1994, a prizewinners ceremony took place at Telecom Eireann headquarters (at the time) in St. Stephen's Green, Dublin, where the winner and runner's up were presented with their prizes by former Minister for Education Niamh Bhreathnach.
The silhouette type image depicts a man running down hill to make a phone call. The sense of moment is enhanced by a dog running in the opposite direction.Ashling won a Dell computer and software for her school, along with a £500 educational trip voucher for her class and a bike.
In the runners up categories, John McGee (12), of Scoil Chaieal won the 7-13 age group and Conor Rafferty (6), of Muchgrange National School, Co. Lough, came first in the U-7 category. An additional 37 highly commended entrants received scrolls.
The Judging panel consisted of:
Dr. Michael Ryan, Director Chester Beatty library
Ms. Barbara Dawson, Director Hugh Lane Gallery
Mr. Ray Wesselman of Corporate Image
Mr. John Dennehy senior inspector, Department of Education
Image (2) © Irish Press. Photo by Mick Slevin
(Please note: Competition was held in 1993 and Callcard was printed and distributed in 1994).