Design a Callcard 1999 Callcard (1268)
Limited Sleeve/Wallet Produced:
Card Information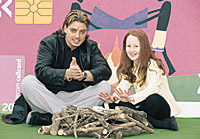 The overall winner of the 1999 Eircom Design a Callcard competition was Bebhinn Langan of Holy Trinity National School, Newport Road, Westport, Co Mayo. Bebhinn's winning design was selected from over 26,000 entries nationwide and at the time reaffirmed the competition's position as one of the country's most popular schools competition. The inspiration for 12 year old Bebhinn's design is, 'eircom - messenger for the future' and depicts two figures sending smoke signals in the form of the eircom name.
In addition to having her winning design printed on 150,000 callcards, Bebhinn was awarded with her own Sony Playstation, a pack of callcards, art supplies for her school and an educational trip for her class.
(Please note: Competition was held in 1999 and Callcard was printed and distributed in 2000)